3 energy-efficient updates for a bathroom remodel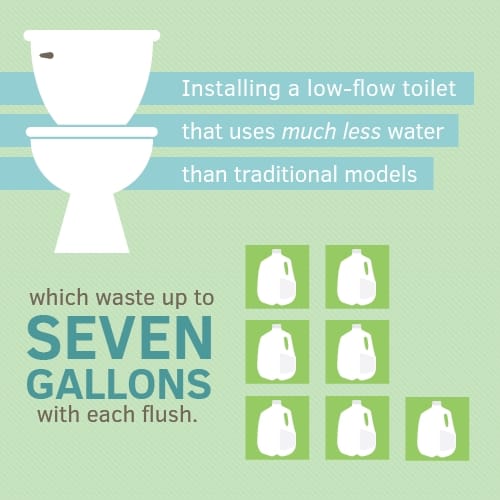 Are you the proud owner of a home? Looking for creative ways to incorporate modern technology and lavish features into your existing living areas? There are a number of ways you can update residential spaces to better accommodate your needs and impress guests and visitors.
In recent years, many homeowners have shifted their focus to their property's bathrooms, as these are typically the most often utilized areas, aside from kitchens. Contemporary upgrades now enable individuals to save considerable amounts of energy – and money – while enjoying the same functions. If you're looking to improve your home in anticipation of putting it up for purchase on the local housing market, or you are simply wanting to enhance the amount of comfort it affords you on a regular basis, making the following three updates to bathrooms can substantially be to your benefit.
1 – Swap out fixtures for low-flow alternatives
Due to the fact that most of the features usually found within bathrooms use water, this is the best place to start when trying to make a room more energy-efficient. There are currently a number of products available to consumers that provide the same services at a fraction of the cost, and these can help modernize your home's bathrooms. For instance, installing a low-flow toilet that uses much less water than traditional models, which waste up to seven gallons with each flush, according to HGTV. Thanks to the many different styles and sizes available to consumers, you can ensure the energy-efficient feature you choose will complement your bathroom's design scheme.
In addition, you might want to consider swapping out your existing shower head and sink faucet with low-flow models. This change can help your household to save even more water on a regular basis. Along with the environmental benefits of doing so, you can also enjoy smaller utility bills each month – which can really add up over time.
2 – Incorporate natural lighting, efficient options
Aside from the amenities found in bathrooms that use water, those that consume electricity can also be the most costly to operate and maintain. For this reason, it might be a good idea for you to examine the possibility of introducing a skylight or solar tubes into the space. These features can provide you with lots of natural light in interior rooms, and greatly enhance the overall look of a living space, Better Homes and Gardens noted.
However, although features like skylights and solar tubes provide ample illumination for free, they're only effective when the sun is shining. Accordingly, you might want to look into other energy-efficient solutions, such as motion-activated lighting or modern bulbs that require less power.
3 – Redecorate with low-VOC paint
While your home likely doesn't have any traces of lead paint in it, there are some types of the colorful wall covering that are more eco-friendly than others. If you're remodeling your bathroom in an effort to make your home more "green," utilizing low- or zero-volatile organic compound paints can help you add a chic design to the space without sacrificing your health or that of your guests. Though many of these options are more expensive than traditional paints, their toxic levels are much lower, meaning they do not contain products that have been linked to problems such as watery eyes, headaches, asthma, respiratory diseases and cancer, according to HouseLogic.
Ready to incorporate any of these energy-efficient updates into your home's existing bathrooms? We are here to help at Poli Mortgage Group, providing the financial assistance you need to help cover your costs of materials and labor without breaking the bank. During our trusted firm's 16 years in operation, our Loan Officers have found incredibly low rates for clients, and originated more than 40,000 mortgages. To learn more about the range of offered products and services, or to research available rates, call us at 866-353-7654 today.