4 benefits of incorporating a home office into your residence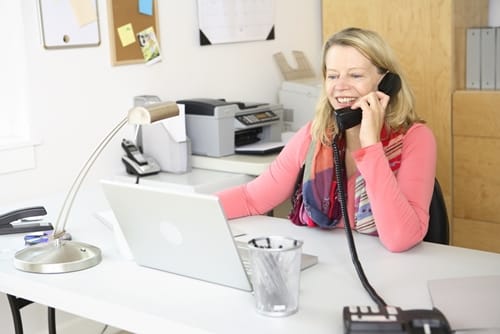 Over the course of the past several years, mobile technology has grown into an important aspect of the professional realm. With individuals now able to access their email at any time from anywhere, businesses can stay productive throughout the entire workday.
In the same vein, another trend that has gained in popularity recently is the home office. By telecommuting, employees can stay on top of their workload while avoiding long, tedious commutes and enjoying the comfort of their own homes. However, this is typically easier said than done, as those who do not have a specific area set aside to serve as their workspace tend to struggle with their professional effectiveness.
If you have purchased your own home, and are interested in being able to work from it for a few days each week, you may want to consider introducing an office to unused square footage, as doing so could boost not only your personal productivity, but also your home's functionality.
1. Enhanced work-life balance
Whether you take a train, bus, bike or car to work, the morning and evening commute can waste a significant chuck of your time. Traveling to and from the office could take anywhere from a few minutes to a couple hours – but either way, this is time you could use to do something else. When working remotely from a home office, your daily commute might consist of simply walking a few steps or climbing a staircase, effectively freeing up copious amounts of time for more work or additional sleep. This could even help you to play a more integral role in your family members' lives, as you will be more readily available.
2. Increased productivity
With fewer coworkers within earshot, and less opportunities to avoid working, installing a home office in your house could have a largely positive effect on your output levels at work. By removing any possible distractions, you can better focus on the task at hand, and potentially see improved outcomes. In addition, you may be able to stay more organized more often, as there won't be a mass of other people's documents floating across your desk – only through your email account.
3. Improved financial, emotional situation
In addition to more time, you may find yourself with more money after working from home for a little while. With the cost of commuting and buying lunch completely cut out of your monthly budget, as well as the reduced emphasis on dressing in expensive clothes, you could see your personal savings begin to grow faster. Additionally, you might even experience less stress – not just because you are regularly putting away more funds, but also because you're not tasked with making the trip into the office and routinely having to deal with late trains, crowded buses and inconsiderate people.
4. Heightened home price
Even if you don't have any plans for listing your house on the local market, introducing a home office into one of the existing living spaces could serve to increase the amount of money prospective buyers may offer should you decide to put your home up for sale in the future. With the growing popularity in working remotely being observed in multiple industries, this trend could continue its upward trajectory in the coming years. Accordingly, many buyers might be more inclined to buy property with established office space, and may be willing to pay higher prices to ensure their offer is accepted.
Interested in undertaking this effective home improvement project? Concerned you may not have enough savings to cover the cost of construction and still stay current with your other obligations? You could benefit by contacting the trusted lending firm Poli Mortgage Group and researching the offered products and services. The company's team of Loan Officers can find clients low rates and originate mortgages with favorable terms. To get started, call 866-353-7654 today.