4 upscale home improvements expected to be seen in 2014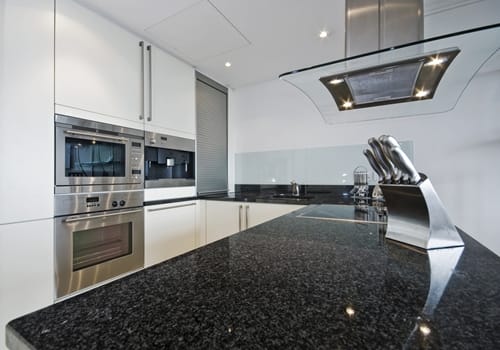 As individuals across the East Coast begin to experience colder weather, many are undoubtedly spending more time indoors, staying warm with their friends and family. Accordingly, since interior living spaces get more use during the winter season, it is also the part of year that homeowners typically start to make plans to remodel certain areas. Due to the fact that a substantial number of people generally spend the most amount of time in their kitchens – cooking, entertaining and eating – many often choose to make improvements to this room.
In addition to helping prospective homebuyers finance a housing purchase, Poli Mortgage Group can also assist current owners in obtaining the funds necessary to make much-needed updates. Many of the most popular enhancements heighten not only a living space's functionality, but its overall appearance and resale price as well.
Those individuals interested in coordinating a home improvement in 2014 may benefit by incorporating one of the following four design elements, which were noted as the top kitchen remodeling trends for next year.
1. Open shelves, glass-front cabinets
While some homeowners might have once wished to hide all of their kitchens' wares, next year, a significant number of them may be looking to feature these items front and center. Displaying the different objects found within the room can create a stylish contemporary aesthetic similar to that of a traditional farmhouse kitchen, according to the latest Zillow Digs Home Design Trend Report.
"As the kitchen has become a central meeting place for family and friends, presentation has become a priority for many homeowners," said Kerrie Kelly, member of the Zillow Digs Board of Designers. "It is now fashionable to display almost everything in the kitchen – from dishes to pots and pans to gourmet oils and vinegars."
2. Black counters
Countertops made from high-end materials such as granite and quartz have long been popular additions to modern kitchens. However, 2014 may see an uptick in the inclusion of darker hues. Introducing dramatic countertops to a kitchen can provide the entire room with a tasteful interior design scheme that is visually striking to its occupants. Zillow also noted that in the coming year, black countertops will likely be paired with lighter accents, as this can create an attractive, contrasting presentation.
Zillow Digs Board of Designers member Adam Hunter said he often suggests his clients install "black granite that is honed or has a leather finish," as it establishes a bold ambiance throughout the space.
3. Darker paint tones
Those hoping to design their living areas with a cosmopolitan atmosphere and sense of sophistication may increasingly choose counters with colors like black, deep brown and dark red and copper, the housing information provider reported. While brighter hues like white and yellow may have been popular in the past, these rich tones add a degree of drama to kitchens, and can substantially enhance its overall look.
4. Interesting, intricate accents
In addition to richer colors, it is also expected that homeowners will progressively introduce exquisite details to their kitchens in the next year. Incorporating complementary and contrasting hues can forge an eclectic, stylish atmosphere that makes people want to spend more time not only dining, but enjoying the entire space, according to HGTV. Small accents acquired from various travel – or simply a quick trip to the home improvement store – can provide individuals with just the items they need to create a special design scheme.
At Poli Mortgage Group, we know the sense of pride people feel toward their homes, and the great deal of thought they put into each enhancement. Those that want to make improvements larger than their budget will accommodate can benefit by contacting one of our experienced Loan Officers, who can find them low rates and secure manageable payment plans. Call us today at 866-353-7654.