5 Tips for Successfully Getting a Mortgage in 2017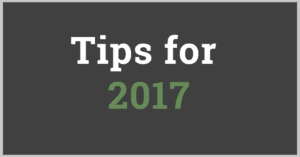 So what's to come in 2017 exactly? Predictions for what mortgage rates will do are a little tough to say at the moment.
2016 was a great year all around, with mortgage rates at historic lows and the economy on the up-swing there was a lot of purchasing and refinancing. With the recent rate increases it's easy to believe that there will be a steep increase in the cost of doing loans in 2017 — but not necessarily. With rates increasing a bit and the economy continuing to do well, rates should begin to settle down.
Whether you're looking to purchase a home or refinance, here are 5 tips for successfully getting a mortgage in 2017.
You can still make a low down payment (or no down payment at all)
Depending on the loan program, you may not have to put down a full 20% up front.  In fact, some loan programs allow you to put down no down payment, or as low as 3.5%.  If you're looking for a program that will allow you to put down a low or no down payment, consider these program options (borrower must qualify under each program guidelines):
VA mortgages (for veterans and active-duty service members) allow for a $0 down payment mortgage
USDA loans (U.S. Department of Agriculture) allow for a $0 down mortgage as part of their Rural Development program. Check https://eligibility.sc.egov.usda.gov/eligibility/welcomeAction.do to see if the area you're looking to purchase in would qualify
FHA loans (typically great for first-time home buyers) allow for down payments as low as 3.5%.
Some conventional lenders will offer lower down payments as well, however you may need to pay for private mortgage insurance (PMI).
You could potentially save by refinancing into a 15 year mortgage
Yes, rates have increased. But if you purchased your home in the 1990's or early 2000's, your rate is likely quite higher than the current rates (even if they were to continue to increase).
Refinancing into a 15 year mortgage could make sense for you since you'll be saving money in the long term by paying less interest over time.  You could also possibly remove PMI or cash out some equity if the current value of your home supports the transaction.
Ask us about a no or low closing cost mortgage
Typically, a mortgage has closing costs that could be thousands of dollars.  Depending on your specific financial situation and goals for your new home, it may make sense to increase your rate a bit but have little to no closing costs.
At Poli Mortgage, we always provide low lender fees, but in addition we also provide our customers with flexibility in choosing the closing cost / rate situation that makes most sense for them.
A cash-out refinance could potentially work for you
Basically in a cash-out refinance, the homeowner refinances their mortgage for more than what they actually owe on the house so that they can pocket the extra money for other uses.
If you're looking for long-term usage of this extra cash such as making improvements to your house, consolidating your debt or financing your child's college education then a cash-out refinance could be the way to go. This does assume however, that your home value supports the transaction.
Watch your spending during the loan process
So you've found the home of your dreams or you've determine that refinancing makes sense for you – congrats!  However, during the entire loan process you need to keep your finances as steady as possible. That means no charging up your credit cards and no applying for new loans (your new car will have to wait).  Doing things to impact your credit score could get your mortgage closing off track, and you could be back at square one.
Not sure which type of home loan is best for you?  Click here to rate your priorities and find the loan program that may work best for you.  As always, any questions please give us a call at 866-353-7654.