Best Practices: Selling/Buying a Home before the Holidays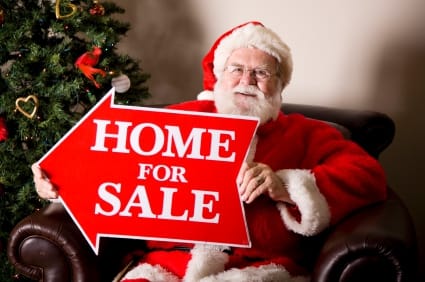 The holiday spirit is kicking in, and 2018 is just around the corner. That being said, there are several housing market factors unique to this time of year. Whether you're gearing up to sell your home, or in the market to purchase, utilize these helpful tips for taking action before the holiday season hits!
Selling
Generally speaking, houses have a tendency to look their best during this range of Thanksgiving to New Year's. Understandably, this is probably due to the increased focus on holiday décor, so it's important that an individual looking to sell their property follows this trend. Decorating your home nicely—but not too nicely—will be in your best interest. Consider season-specific aspects like the absence of leaves on trees leaving your home more exposed, and provide touchups to curb appeal as you see fit. Weather can be less predictable here too, so don't forget to keep your property healthy and safe by salting black ice, tending to that loose deck board, and clearing fallen sticks and leaves from the home's prominent areas.
Another factor you'll want to consider is your pricing strategy. If you're on a deadline to sell your home before the holidays, you'll want to price it to sell rather than pricing it high in hopes of negotiation.  With the holiday season comes less time and tighter budgets, so don't scare off qualified borrowers with a hefty price tag!  Finally, creating an online video tour of your home is certainly worth the time. Due to weather, people may be less willing to go around and travel to physical open houses right off the bat. Film your home when the lighting is ideal, and have the tour include a full range of the property. Remember to mention benefits and highlighting features in the video just as you would in person, and make sure you post it to a number of online channels for people to view it. If you do prefer a physical tour (or want to market your home via both methods), be sure to turn on the heat and include festive appetizers/refreshments in order to maximize the contrast between the potentially harsh weather and the coziness of your home.
Buying
Looking to purchase ahead of the holidays can certainly have its perks. Most notably, there is generally less market activity in the winter months relative to other seasons. For you, this can mean your home search could be less competitive in nature, and that the number of buyers interested in a given home may be smaller. Even better, the result of this decreased activity can make your bid or offer more valuable to the seller, so he or she may be willing to settle for a lower price than in spring markets for example, leaving you with the potential to save thousands.
Additionally, sellers posting their property in the eye of the holiday season are probably doing so for a reason, such as job relocation, trouble with debt, or another timely reason. If this is the case, they can have an increased incentive to sell, and are more likely to accept offers in order to sell their property ASAP. Lastly, it is important to remember that the concept of holiday spirit is real. That is to say, people can have a tendency to be nicer or more agreeable when the holidays are in the weeks to come, which can prove beneficial for both sellers and buyers.
Questions?
Did these tips inspire you to buy or sell before the holidays? If you're ready to take action, call Poli Mortgage Group at 866-353-7654 today! Our loan officers are eager to speak to you about our wide range of home financing options – plus the ability to save thousands with our low rates and closing costs!