How to best protect your home from flood damage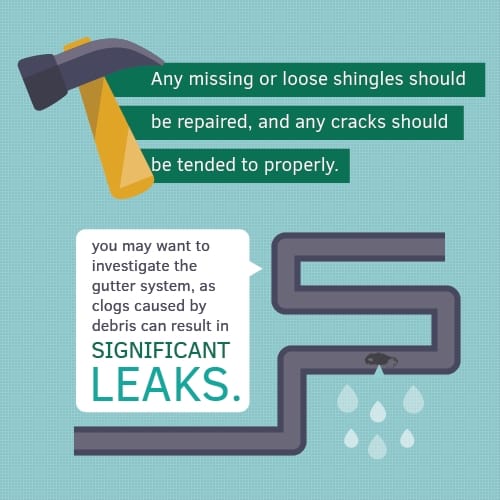 After a long, cold, harsh winter, spring has finally come. As a result, housing activity is increasing in residential markets across the East Coast, and homeowners are starting to consider the ways in which that can improve their properties. With the hope of spending more time outside and heightening their property's purchase value, many are likely preparing their houses for the summer season. However, spring is also a time that extreme meteorological events occur.
In order to enjoy May flowers, individuals typically have to weather April showers. And, if the periodic rainstorms prove to be too much for a home, it could suffer from flood damage. If you're looking to prevent this type of destruction from affecting your house, you may want to undertake the following projects, which can help your property fare better during such weather-related events.
Fill in, seal cracks in foundation – If your home is sporting a sizable gap in its foundation, you would do well to fill these before the rainy season. Cracks can provide water an access point into your house, which can weaken the overall structure, foster the growth of mold and result in significant damage over time, according to HouseLogic. The presence of moisture also puts your personal possessions at risk. Accordingly, being proactive in filling visible gaps in the foundation with mortar or masonry caulk can better protect your property from sustaining losses due to flooding – whether minor or major.
Patch up any possible issues with roof – As your home's roof is likely the first surface to come into contact with water during a rainstorm, it is imperative that this feature can adequately protect the structure from damage. Any missing or loose shingles should be repaired, and any cracks should be tended to properly. These problems can lead to expensive issues if water is allowed to enter your house. While you're at it, you may want to investigate the gutter system, as clogs caused by debris can result in significant leaks.
Check effectiveness of sump pump – If your home is in an area that is susceptible to flooding, checking the sump pump prior to any inclement weather events is a great idea. This feature helps to remove water that finds its way into your home, which can greatly reduce the total amount of damage your property sustains in such a situation. The National Flood Insurance Program also recommended installing a battery powered backup for the pump, as it would be rendered useless if the electricity went out during a storm.
Move possessions, amenities to safe area – Homeowners with basements typically use this space as storage, and if you're one of these people, you will want to move your most valuable possessions out of it before a storm. Additionally, it could be to your benefit to anchor any fuel tanks, as neglecting to do so can lead to sizable damage that is expensive to fix.
Ready to complete some of these projects? Doing so can better your home's chances of successfully weathering a potentially harmful flooding event this spring. If you're interested in obtaining financial assistance to pay for associated costs, consider contacting one of the Loan Officers at Poli Mortgage Group. Recognized as one of the nation's tops mortgage lenders, this trusted firm has built its reputation around its ability to secure clients with low rates and affordable home loans with favorable terms, having originated more than 40,000 during its 13 years in operation. To research rates – at any time of day from anywhere – without having to input any personal information, visit the organization's website. When you're ready to move forward, simply fill out a Contact Us form or call 866-353-7654 to speak with a representative.