The USDA Mortgage Loan Program
You may be looking to purchase a home in an area that the U.S. Department of Agriculture considers rural. If so, you may be eligible for a Rural Housing Loan offered by the USDA. USDA loans offer 100% financing to qualified borrowers who meet certain income qualifications which are tied to the median income for your area. The loans carry an up-front fee which can be financed even if the loan amount is 100% of the value.  You can check eligible property areas on the USDA website.
For more information on the USDA government mortgage loan programs and related guidelines, please complete our contact form or call us directly at 781-232-8000 and one of our loan professionals will be happy to help you.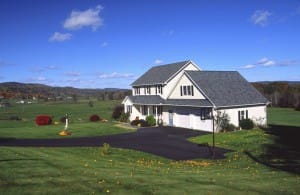 If you don't qualify for a USDA loan, you can explore an FHA loan. More first time home buyers who do not qualify for 100% financing options, turn to FHA for a mortgage loan. Although the 100% option isn't available, FHA down payment requirements are as low as 3.5% and the guidelines are usually more lenient than USDA guidelines.
No matter what your situation is, if anyone can find the right mortgage loan for you, it will be your Poli Mortgage Group Loan Officer. Contact us today at 781-232-8000.