Northeastern home sales rise considerably in March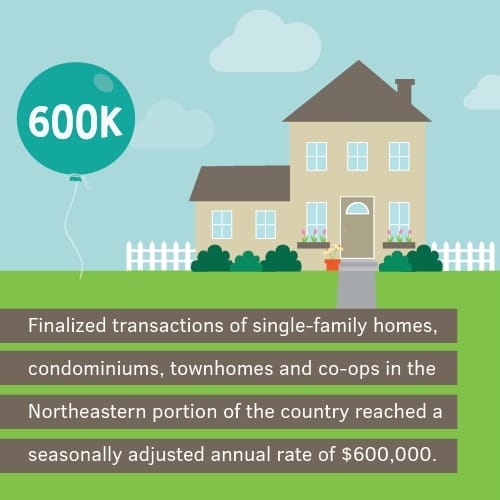 As winter weather becomes nothing more than a recent memory, a number of real estate professionals are expecting to see heightened buying and selling activity along the East Coast. Northeastern housing markets got a good start to the spring homebuying season in March, and are well poised to continue seeing increased sale figures and property values.
Individuals looking to purchase a home in the coming months would do well to begin the process as soon as possible by contacting Poli Mortgage Group. This trusted source of residential lending has found great low rates for countless clients during its 13 years in business, and is currently considered one of the nation's top mortgage lenders. Headquartered in New England and licensed to operate in 17 different states up and down the Eastern Seaboard, the firm's Loan Officers boast impressive amounts of experience and each possess a specialized depth of knowledge.
Home sales, prices improve in Northeast region
During the third month of this year, finalized transactions of single-family homes, condominiums, townhomes and co-ops in the Northeastern portion of the country reached a seasonally adjusted annual rate of 600,000, according to the National Association of Realtors. Within its latest existing-home sales report, the industry organization reported that the number of transactions completed in March was 9.1 percent above the preceding month's total, but was 4.8 percent below the amount recorded during the same time last year.
Home prices also exhibited considerable improvement in the Northeast during March, with the region's median price rising to $244,700, the report said. This amount marked an increase of 3.2 percent from a year ago, and was probably due to constrained inventory numbers in many areas. NAR chief economist Lawrence Yun noted that a few economic headwinds remain, but the homebuying season is likely to continue heating up in the near future.
"There really should be stronger levels of home sales given our population growth," Yun said. "In contrast, price growth is rising faster than historical norms because of inventory shortages. With ongoing job creation and some weather delayed shopping activity, home sales should pick up, especially if inventory continues to improve and mortgage interest rates rise only modestly."
National housing figures lag behind regional totals
The gains observed in housing markets along the East Coast last month pointed toward exceptional improvement, as nationwide averages were not as impressive. NAR reported that the number of completed existing-home sales in March was 0.2 percent less than the amount seen in February, and 7.5 percent below the total finalized in March 2013.
Additionally, the growth recently exhibited in Northeastern home prices was far above that observed at the national level. The Federal Housing Finance Agency announced that the seasonally adjusted monthly price change between January and February in the New England division was -2.5 percent. This drastic dip in values was probably caused by the episodes of inclement weather experienced up and down the East Coast in early 2014. Cold weather and snowfall could have served to deter potential homebuyers from conducting property searches and submitting purchase offers. On a year-over-year basis, though, the region experienced a 0.2 percent uptick in home prices.
Those hoping to pursue the path to homeownership this season can benefit by obtaining affordable residential financing from Poli Mortgage Group. Prospective borrowers can research current rates – without having to input any personal information – at any time of day by logging onto the firm's cutting-edge website. When individuals are ready to move forward, they can fill out a Contact Us form to get in touch with a Loan Officer or simply call 866-353-7654 to speak with a representative.