Pittsburgh sees significant home price appreciation in Q2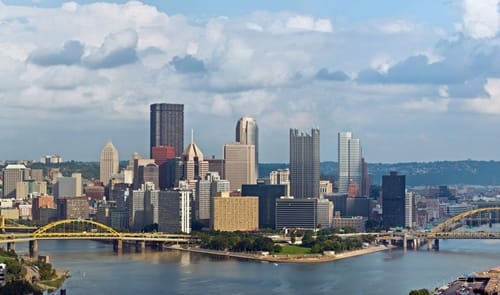 Continuing the trend recently exhibited by housing markets along the East Coast, Pennsylvania's second-largest city was the site of considerable improvement in home prices during the second quarter of this year. If you have been eyeing Pittsburgh as the location for your next move, you may be able to capitalize on the local housing market's favorable conditions – but you should move fast, as prices may see additional gains in the coming months.
Zillow announced in its latest Home Value Index that the Steel City experienced an annual increase in home prices, as the metropolitan area's median estimated value ticked up to $112,200. This figure was 1.5 percent more than that recorded during the same period the previous year, but represented a 1.1 percent decline month-over-month.
"Investors are starting to pull out of some markets and regular buyers are coming back, and more inventory is slowly but surely coming on line, both of which will contribute to slowdowns in appreciation," said Zillow senior economist Svenja Gudell. "All of these factors will help the market in the second half of 2013 and beyond normalize and become much more steady than it has been in these past six months."
Though the recent depreciation may give pause to some prospective home buyers, the real estate information provider forecasted that Pittsburgh will see housing prices raise further in the coming year – an estimated 1.2 percent.
Since its founding in New England in 2001, Poli Mortgage Group has grown into an industry leading source of residential lending, and boasts a number of locations from Maine to Florida, including one in Pittsburgh. If you're looking to purchase a home in the Steel City in the near future, you can benefit from contacting one of our experienced Loan Officers, who will help you find low rates and lock in an affordable payment plan.
Region sustained price increase in May
However, the bulk of appreciation wasn't all just seen during June. In May, the second month of the year's second quarter, the area in which Pittsburgh is located saw a substantial increase in housing prices, according to the Federal Housing Finance Administration. The Middle Atlantic region, which encapsulates New York, New Jersey and Pennsylvania, home price appreciation was seen at a seasonally adjusted 0.9 percent during May. Year-over-year, prices rose 3.3 percent.
Convinced that now is the best time to buy a house in the Steel City? Contact our team of qualified professionals at Poli Mortgage Group to learn of your buying power, and get started on the path to homeownership. Call us at (866) 353-7654.