The best colors to use when redecorating your home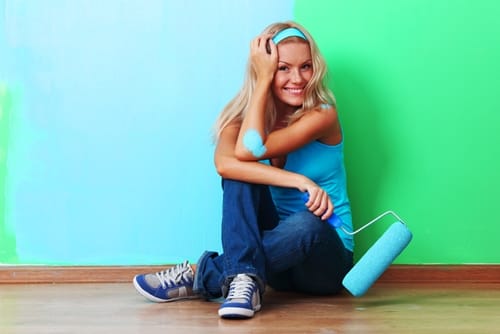 With the presence of warmer temperatures and the summer months now among us, many homeowners up and down the East Coast are looking to enhance their houses in anticipation of the coming season. While most individuals look to prepare their properties by removing storm windows and putting in screens, those who decide to take their efforts a degree further could benefit considerably.
A great way to update existing living areas is through the incorporation of new colors and interior design trends. This is considered one of the most effective home improvement projects largely because the only costs incurred will come from the purchase of paints and associated materials – and the effects are powerful and long-lasting. However, before you go changing the color of your home's walls, you should take into account the effects that each hue has on an individual's mood and well-being, as some work better in certain rooms than others.
Bedrooms – Due to the fact that most homeowners utilize these areas to rest, many wish to experience a degree of relaxation while in their bedroom. Thus, the best colors to paint these walls are cool and dark, such as blues and greens. These hues are believed to produce a calming sense of happiness, so they are popular choices for the sleeping quarters of everyone from young children to older adults, according to WebMD. Further, brightening up the space with tasteful accents that boast warm complementary colors such as orange and yellow can add an energizing effect.
Home office – Not every homeowner is able to incorporate office space into their property, but those who are can benefit by painting the area a shade of green, as they can advantage from increased productivity. According to Pantone, this color helps many to concentrate and keeps blood-pressure levels down. Additionally, it assists in getting creative juices flowing, yet calms the mind. It can also provide the space with an upscale aesthetic – so if you're attempting to run a small business out of your home, it could potentially help you to gain clients' trust and enhance your bottom line.
Bathrooms – As some of the most often visited rooms in a typical household, it is important to pay attention to the implicit messages your bathrooms are sending your guests. Shades of white and neutral tones such as beige have long been used, but while they effectively produce a hygienic, inviting feeling, homeowners are starting to branch out. In an effort to provide their property's bathrooms with the appearance of a relaxing, high-end spa, some paint their bathrooms' walls colors such as turquoise, which give off a sense of being clean and fresh.
Common areas – In the same vein as a home office, painting the walls of your home's communal area – such as a living room – a bright, warm color can stimulate conversation, as well as ensure that your mind is regularly engaged and your body is always active. However, if you prefer to spend your evenings relaxing with friends or family in a laid-back atmosphere, using cooler colors may be best for you.
Although gallons of paint are relatively inexpensive, if you've got a big job to do, costs could add up fast. If you're looking to make a change to your home, but are worried about the project's potential to negatively affect your personal savings, consider contacting us at Poli Mortgage Group. Founded in 2001, our trusted source of residential lending has grown into a regional authority throughout the Northeast, thanks to our Loan Officers' ability to find low rates and secure clients with affordable payment plans. To date, we have originated more than 40,000 mortgages, totaling upwards of $17 billion. To learn more and get started today, call 866-353-7654.