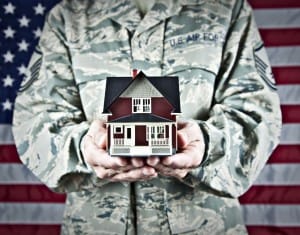 Requirements for VA Loans
The most popular feature of a Veteran's Administration (VA) home loan is that it offers 100% financing. Usually, a first time home buyer would be required to put down at least 3.5% – 5% of the purchase price of their new home, but this is not a requirement in the case of a VA loan.
In addition, most first time home buyer programs would require costly mortgage insurance, typically known as MI, but this is also a waived requirement for VA mortgages. VA home loans also offer very competitive interest rates, lower credit eligibility requirements and special fee waiver provisions for disabled veterans. Additionally, there is a program that allows a VA loan to include funding the closing costs if approved by the seller.
The VA Mortgage Guarantee Program is administered by the Department of Veteran Affairs and was originally started in 1944 as a way to offset some of the emotional and economic issues for returning World War II service veterans.
Put in your loan scenario to get an instant rate quote for your VA loan or give us a call at 781-232-8000 to speak with a VA loan specialist. 
How do you determine VA mortgage eligibility?
Your first step in determining VA home loan eligibility is securing two documents:
DD 214 Certificate of Release or Discharge
COE or Certificate of Eligibility
We encourage you to contact one of our mortgage loan professionals at 781-232-8000 – we are available to answer your VA home loan questions and help you determine eligibility.
VA mortgages do require a funding fee which is automatically financed within the mortgage. Below is a chart that identifies the VA funding fees. Please note that funding fees are subject to change.
| | | |
| --- | --- | --- |
| Loan Category | Active Duty and Veterans | Reservists and National Guard |
| Loans for purchase or construction with down payments of less than 5%, refinancing, and home improvement | 2.15% | 2.40% |
| Loans for purchase or construction with down payments of at least 5% but less than 10% | 1.50% | 1.75% |
| Loans for purchase or construction with down payments of 10% or more | 1.25% | 1.50% |
| Loans for manufactured homes | 1% | 1% |
| Interest rate reduction refinancing loans | .50% | .50% |
| Assumption of a VA-guaranteed loan | .50% | .50% |
| Second or subsequent use of entitlement with no down payment | 3.3% | 3.3% |